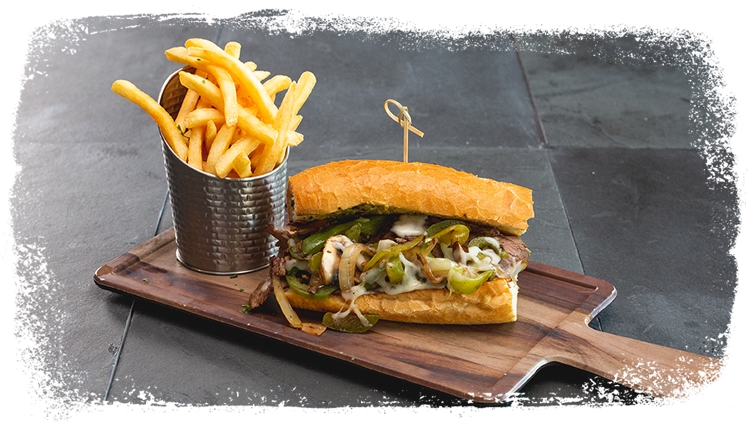 Food
We've done all the work for you, or at least 55 years of it, refining everything from our patented recipes and procedures to our operations and advertising. At Blast & Brew we believe that the key to a great experience is a customer-tailored experience. We offer over forty fresh toppings so you can create your perfect Neapolitan style pizza; make your own unique wrap, sandwich or salad; or try something new every time. Everything is one of a kind because you create it. Endless customization means there's always something for everyone at the table—it's what brings people together, and that's what keeps us living the Blast lifestyle every day.
Pizza
Our dough is one-of-a-kind; it's hand-stretched, never pressed, topped with all your favorite fresh ingredients and fired to perfection in just 3 minutes. Yes, the perfect pizza is that fast.
Sandwiches & Wraps
Customize your sandwich or wrap with any of our forty fresh toppings. Try something new or recreate a tested and true masterpiece. Your sand-wish is our command.
Blast Bites
Not in the mood for pizza? Try our Blast Bites! Choose from freshly fired flat breads, onion straws, chicken wings or drumets, meatball marinara, a German pretzel or seasoned potato chips. Every bite is a blast.
Salads
With literally thousands of flavor combinations, take your salad to the next level, and top it off with one of our house-made dressings.
Beer
We know beer and wine. We've partnered with craft breweries since the late 1990s, including Butterfield Brewing Company, Figueroa Mountain Brewing Company and Tioga-Sequoia Brewing Company. These long-lasting partnerships, along with continual research and our expanding scope of experience, keeps us on top of the latest trends and consumer demands. We also know about creating a unique experience for customers, and craft beer is known for experimentation. The flavors are constantly evolving, the market is steadily growing—and so are we. We're proud to support local breweries, and we're excited to have created a space for beer enthusiasts to share our passion.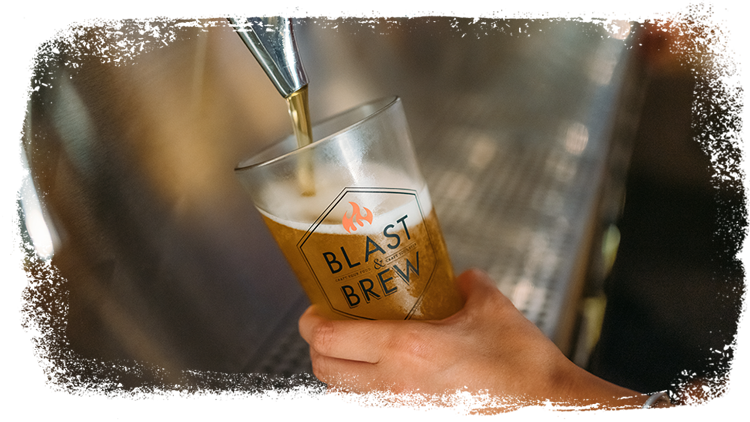 Self-Pour Taps
With our pre-paid wristbands and self-pour taps, customers can customize their beer experience down to the ounce. They can choose from over thirty local and regional craft beers and enjoy what they want, when they want it. Oh yeah, they can pour their own beer! There are no bartenders. That means no wait, and a completely customer-centric beer experience.
Beer Geniuses
Our Beer Geniuses are experts in all things beer. They're fountains (or taps) of knowledge, and they know it all—from the brewing process and the breweries to how best to pour and pair each beer. They help provide the best "exbeerience" possible by answering questions, offering tips, and helping customers discover their new favorite brews.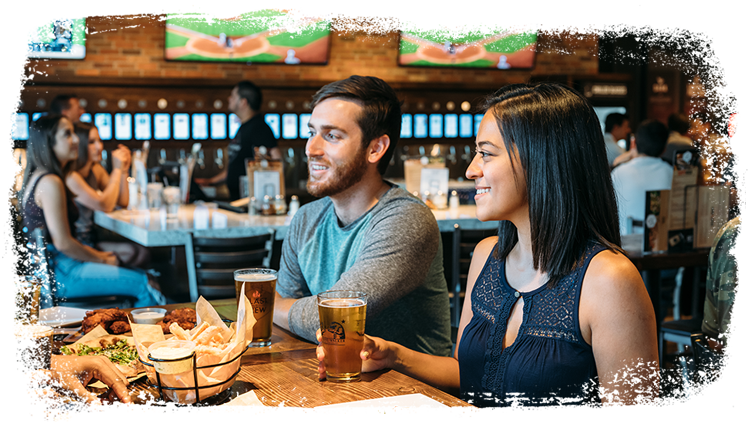 Social
Where Food and Beer Have A Social Life
Decades in the restaurant business have taught us that a great environment makes for a great customer experience. Our self-pour taps encourage people to get up, walk around and explore the restaurant. And our friendly Beer Geniuses are easy to talk to, facilitating the kinds of interactions that make a place memorable—like handing out high fives, or helping someone discover an exciting, new local beer. There's also ten or more 70" flat screen TV's, so customers can relax and enjoy the game, listen to music or tune into their favorite show. The fun-casual feel is perfect for beer connoisseurs to relax after a long week, friends to catch up, or families to make memories.
Blast and Brew = Togetherness
Blast & Brew was built for sharing—literally. With lots of open space, the concept is designed to accommodate large numbers of people. The u-shaped bar is the social nucleus of the restaurant, and with high top tables and self-pour taps, customers move freely to weave in and out of different conversations. Plus, when you create the perfect pizza, sandwich or salad, or find your new favorite beer, you want to share it. It's that simple.